As a magician I get asked to entertain at a lot of different venues around Sydney. Over time, I have formed a list of my favourite venues to perform at.
Whether you're looking for some last minute inspiration for your work Christmas party or just keeping in mind a future event I've put together a list of my top 3 venues to perform at around the city. Particularly, those which I think would be ideal to host a work Christmas party or dinner with it being the lead up to Christmas!
1. The Grounds, Alexandria
Function capacity: Seated [min 8 max 170] Standing [min 20 max 320]
Transport: 20 mins drive from Sydney CBD (with large car park). Public transport options are limited.
Style: Traditional farmer's market meets 'The Secret Garden' plus great food
Stepping into The Grounds is like entering a dream world. The theme being high quality home style food and drink in an impressively designed outdoor farmer's market setting. Attention to detail being second to none with no details overlooked, down to the butcher's cleaver as a door handle to one of the outhouses from which the tastiest smoothies are served. Not to mention the resident pig, aptly named "Kevin" [Bacon], who shares a paddock with the strangest and largest chickens I've ever seen! Come evening, the animals have been escorted elsewhere and the venue transforms into the coolest function space you can imagine.
I first experienced The Grounds last summer when I was asked to perform as their resident magician, each Saturday, during the afternoon market rush. My latest magic performance here was for a corporate wine dealer who had rented out 'The Garden' area as a function space to hold a wine tasting event. The event followed a wedding function a couple of days earlier and the white tulip decorations were still hanging from the open air ceiling structure creating an unforgettable evening setting under the stars.
The Grounds has an ability to capture your imagination in a way that no other venue that I've performed in is able to which is why I have listed it here as my top venue to hold a work Christmas party. The elegant decor and quality of the food is sure to make The Grounds leave a lasting impression on your guests.
Website: http://thegrounds.com.au/
2. The Italian Village, The Rocks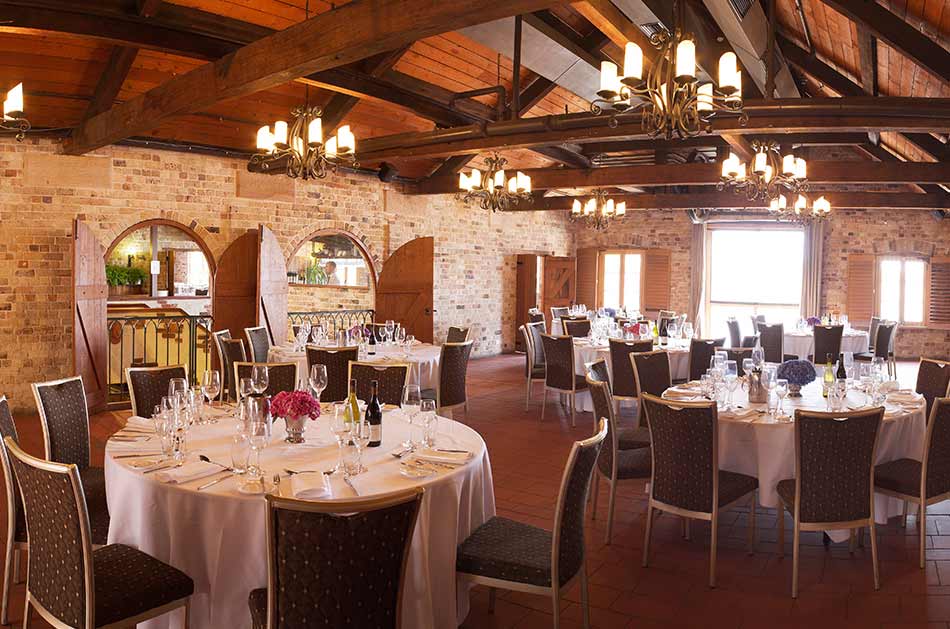 Function capacity: 20 – 500, see table below
Transport connections: 7 minute walk from Circular Quay train station.
Style: Classy and authentic old-Italian feel with views overlooking the harbour towards the Opera House.
Think 'The Grounds' but indoors, without all the foliage and a throwback to a very classy mid 20th century Tuscany and you have "The Italian Village". Located in The Rocks I first came across this venue when I performed magic at a wedding reception here. The rustic open brick walls and low wooden beams give off an air of class synonymous with the Italians by whom this venue has been inspired.
The venue are currently promoting a 30% special offer on their website for cocktail and banquet event bookings of $69pp to celebrate 30 years of business so get in quick!
Venue capacity table:
Website: http://docksidegroup.com.au/venues/italian-village
3. The Dolphin Hotel, Surry Hills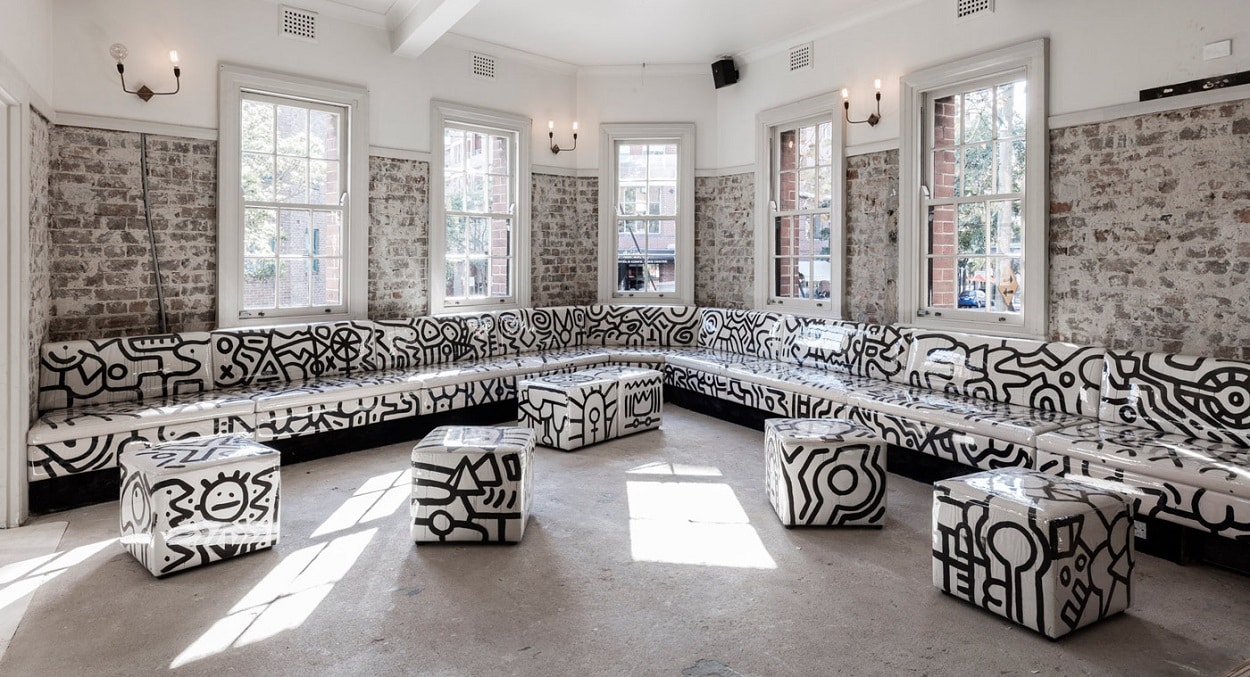 Function capacity: reservations recommended for groups larger than 6.
Transport connections: Bus, 10 minute walk from Central station.
Style: Hip. Artistic. Minimalist
After performing magic here at a client's lunch party I realised the potential this venue has to host a work function. Although advertised as a pub, when you walk in you think it to be so much more. Attractively decked out with a graffiti and scratchy handwritten design throughout and an open space feel with lots of rooms on varying levels gives the feeling more of an exciting labyrinth to explore than a pub venue. The stone baked pizzas are exceptional. The atmosphere of the place is trendy and its white decor gives it an ultra clean and fresh modern feel.
For smaller work events why not enquire about a restaurant reservation?
Website: http://dolphinhotel.com.au/